Cremation Urn for Ashes
Musu Adult Ashes Urn
Regular price
$144.00 USD
Regular price
Sale price
$144.00 USD
Unit price
per
Sale
Sold out
A beautiful cremation urn with enough capacity to hold an adult's ashes remains.
Our Musu Ashes Cremation Urn is perfect to commemorate your loved one.
This ashes urn is made from high quality alloys, which gives it a high degree of durability, while also being affordable and dignified. It is handmade with a very pretty enamel-coated finish in the flower and bird design. You can be assured this urn will be well-made, yet will not break the bank.
Choose a design that is perfect for honouring your loved one, and the top-opening threaded lid makes it easy to place their ashes inside. With a variety of choices available, you can find the perfect urn to reflect their unique personality and style.
Pick the perfect cremation urn for your loved one. We offer a selection of sizes to match their unique personality and legacy, ensuring they will be remembered in style. Here are some hints on
how to choose the right size cremation urn
Share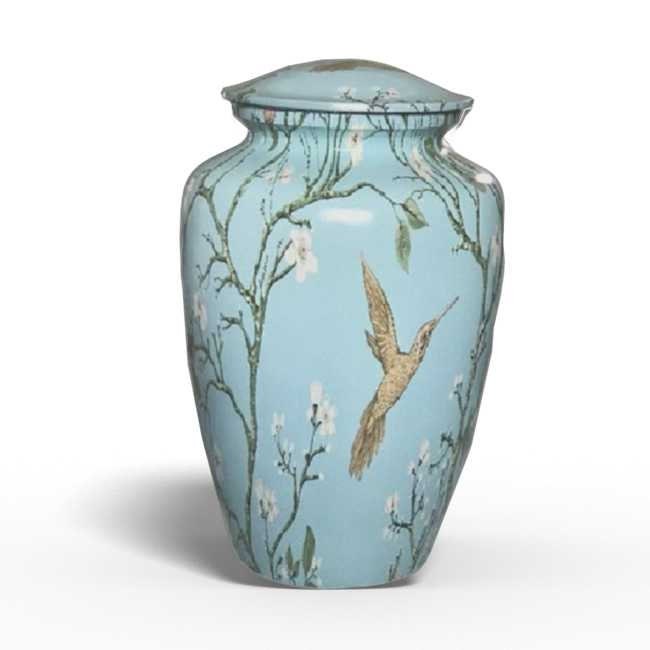 Beautiful Urn
Thank you for the beautiful Urn for my mother's ashes. Lively design and wonderful quality.
Thank you so much, Angela! We're glad that you're pleased with the product.
Urn review
Nice and roomy inside although a bit dusty.
Thanks so much for the review, Renay. You can use a damped cloth to wipe the dust off inside the urn.
Happy customer
I am very happy with the urn I ordered for my late mother, it is exactly what I wanted & looks even more beautiful in person.
Thank you so much, Sharna. We're delighted that you're pleased with the product.
Cremation Urn
I have just received my urn from you for my husband's ashes who passed away 9 months ago 😢and I am extremely happy with my purchase it looks lovely on my cabinet alongside his photo 😊 I love the beautiful colour and the beautiful decorative design on it and I know he would have loved it also . Also your customer service was excellent and very professional and prompt . Thank you once again
Dee Charlton 💜
Thank you so much for your awesome feedback, Dee. We're glad to you're pleased with the product and service.
Lovely product and great service
Thank you for our lovely urn, it's beautiful. Fast service and packaged well.
Thanks for the great feedback, Kim! We're happy that you love the product and our service.