Cremation Urn for Ashes
Imbratisare Adult Ashes Urn
Regular price
$219.00 USD
Regular price
$277.00 USD
Sale price
$219.00 USD
Unit price
per
Sale
Sold out
A beautiful cremation urn with enough capacity to hold an adult's ashes remains
Losing a loved one is never easy. The grief can be overwhelming and seemingly unbearable at times. But, in the midst of all the pain, there is still hope. Hope that their memory will live on in our hearts and minds forever. And what better way to keep their memory alive than with a beautiful memorial like the Imbratisare Adult Ashes Urn?

Made from high-quality aluminium alloys, the Imbratisare Adult Ashes Urn is an exquisitely crafted urn that is both durable and affordable.
The Imbratisare urn for ashes has

 

a beautiful luminescent design with a polished silver coating. It is part of our teardrop urn range, 

making it a truly elegant memorial for your loved one.
high-quality alloy ashes urn
part of our tear-drop range of ashes urns
sleek design
affordably priced
With its simple yet sophisticated design, the Imbratisare Adult Ashes Urn is sure to be a treasured memorial.
The base-opening threaded lid makes it easy to place their ashes inside, keeping them secure and safe.
Choose a design that is perfect for honouring your loved one. With a variety of choices available, you can find the perfect urn to reflect their unique personality and style.
Pick the perfect cremation urn for your loved one. We offer a selection of sizes to match their unique personality and legacy, ensuring they will be remembered in style. Here are some hints on
how to choose the right size cremation urn
Share
Size

2.5 Litre 24.5cm | 150 cu-in 9.5 in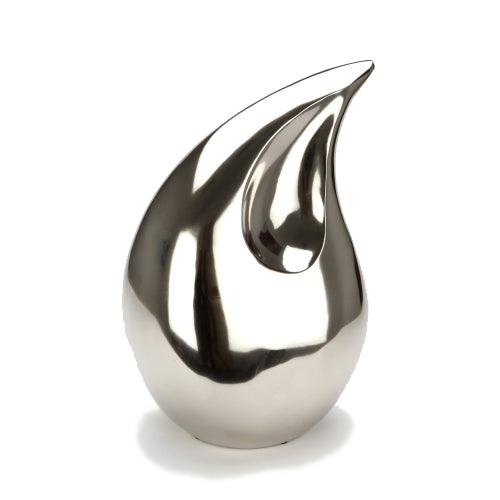 A lovely piece to treasure
Very happy with this beautiful urn which I can display but no one needs to know it's contents if it makes them uncomfortable as it just looks like a lovely decorative item.
We're glad that you're very happy with the product, LK. Thanks!
Teardrop Urn.
Extremely satisfied with the Teardrop Urn. I have it prominently placed on my TV unit with a vase of colourful flowers. Several visitors have described it as decorative art.
We're glad that you're happy with the product, Kenneth. Thanks!
Teardrop Urn
After initial opening ofmm by our urn felt somewhat disheartened at the lack lustre finish in comparison to the website pic but with help from the support team recommendations to polish the urn we were well satisfied with my wife's & children mums urn .
We're glad that the polish we recommended worked and that you're happy with the product now. Thank you!
Lovely product
I am so thrilled my mum will hold pride of place in such a stylish resting place.
We're also thrilled that you're pleased with the product, Chris. Thank you!
Very happy with the Imbratisare Ashes Urn
It's so nice to hear that you're satisfied with the urn. Thanks, Bev!