Cremation Urn for Ashes
Beundre Adult Ashes Urn
Regular price
$150.00 USD
Regular price
Sale price
$150.00 USD
Unit price
per
Sale
Sold out
A beautiful urn with a lovely garden motif, this cremation urn has enough capacity to hold an adult's ashes remains
Looking for a beautifully crafted urn to memorialize your loved one? Our Beundre Adult Ashes Urn is perfect for those seeking an elegant and affordable option.
This urn for ashes is handmade from high-quality alloys and features a lovely enamel-coated finish with a floral garden motif.
high degree of durability
affordable and dignified
handmade with a very pretty enamel-coated finish
garden and floral design
Give your loved one the dignified send-off they deserve with our Beundre Adult Ashes Urn.
You can be assured this urn will be well-made, yet will not break the bank.

Choose a design that is perfect for honouring your loved one, and the top-opening threaded lid makes it easy to place their ashes inside. With a variety of choices available, you can find the perfect urn to reflect their unique personality and style.
Making the right size selection for a cremation urn is essential to ensure it dignifies and honors your loved one. Careful thought should be given when considering
how to choose the right size cremation urn
to ensure you have an appropriate sized vessel that comfortably contains their ashes.
Share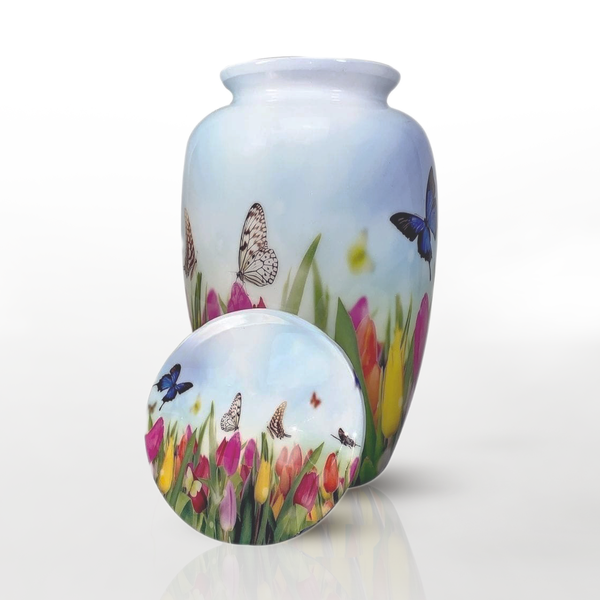 Everything I wanted for my Mum
I knew straight away this was the one for my Mum ♥️ It made me think of happy thoughts and I think Mum would have approved of my choice for her 🦋 .
Thank you so much for sharing this touching feedback with us, Zellann. Your words are a testament to the love and care you hold for your Mum. We're deeply moved to hear that the item you chose resonated with your feelings and brought about happy thoughts. Your Mum's memory is cherished, and we're grateful for the opportunity to be a part of it.
Great service
Great service wonderful product, cannot fault
We're happy that you're pleased with the product and service, R. Thank you!
Pretty, Perfect, Efficient
The urn was exactly as we hoped, very sturdy, beautiful, and timely delivery.
We're glad to know that you find the item and delivery satisfying. Thank you!
Beautiful
Bright and beautiful just like our darling boy who left us. Thankyou
That's such a lovely way of putting it, I hope it brings you solace Robyn.
Lovely Urn
We wanted something bright and uplifting to reflect my Aunts love of life and nature. And something that was more ornamental than a standard urn. We are very happy with this urn. It is just as it appears on the website.
We really appreciate your lovely words Alison, thanks.