Cremation Urn for Ashes
Armastus Adult Ashes Urn
Regular price
$180.00 USD
Regular price
Sale price
$180.00 USD
Unit price
per
Sale
Sold out
A beautiful cremation urn with enough capacity to hold an adult's ashes remains
Losing a loved one is hard, but having a beautiful cremation urn to memorialize them can make the process a little easier. Our Armastus ashes cremation urn is perfect for holding an adult's ashes and features a stunning Greco-Roman finish.
The Armastus urn for ashes is handmade from premium brass, giving it superior strength and weight.
The elegant engraving is the perfect way to commemorate your loved one.
Because it's handmade, you can be assured that this urn is of the highest quality without breaking the bank.
Give your loved one the memorial they deserve with our Armastus ashes cremation urn.
The top-opening threaded lid makes it easy to place their ashes inside, keeping them secure and safe.
Choose a design that is perfect for honouring your loved one. With a variety of choices available, you can find the perfect urn to reflect their unique personality and style.
Making the right size selection for a cremation urn is essential to ensure it dignifies and honors your loved one. Careful thought should be given when considering
how to choose the right size cremation urn
to ensure you have an appropriate sized vessel that comfortably contains their ashes.
Share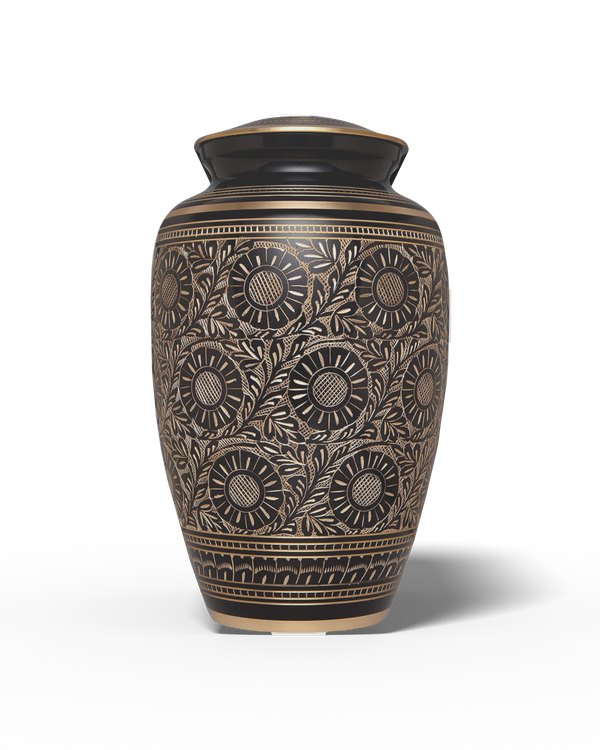 Beautiful and strong
Is a very beautiful vessel, unfortunately we struggled fitting all the ashes in it and we realise how strong it was because we had to tap it against the floor constantly to fit all in there. Was a little not expected that we had to bang the ashes and tap them to fit them all. We si till had a hand full that don't fit and was a little upsetting.
Thanks, Lina. Your feedback means a lot to us, and we're genuinely thankful for your input. We're truly sorry to hear about the difficulties you faced with the urn, and we regret any distress it may have caused during this emotional time.
We're committed to providing a dignified resting place for your loved one, and we take your feedback seriously. We'll review our product to better meet the expectations of customers like you.
If you need further assistance or have any concerns, please reach out. Your satisfaction and your cherished memories are paramount to us.
Armastus Urn
The most beautiful urn my family has ever seen. Looks gorgeous in our family home and unlike any other urn we looked at.
Absolutely perfect to hold my mums ashes.
Thank you so much for the awesome feedback, Elly. We're glad that you guys are pleased with the product.
I do love my urn, my only problem was the amount of time it took to arrive. It would be good to have an estimate of this on considering the purchase.
Thanks Carole, this is important feedback and we are looking at ways of providing that estimate more accurately.